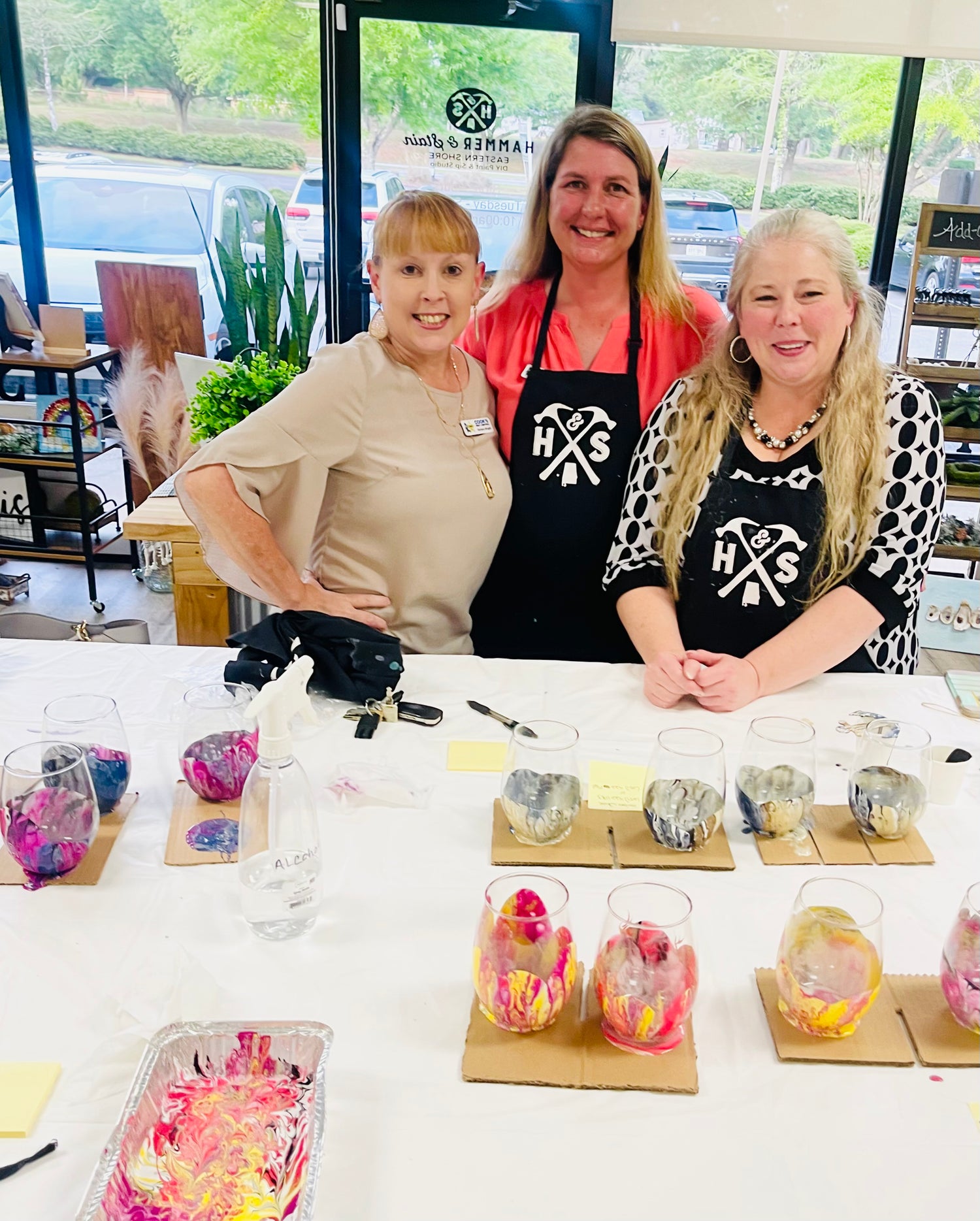 Hammer & Stain Eastern Shore is a do-it-yourself studio specializing in home decor. We offer fun workshops that allow you to create a beautiful project to keep or give to someone you love.
Our goal is to make your experience memorable and enjoyable. Our workshops are ever-changing and we strive to bring you fresh new projects regularly.
We offer digital & PHYSICAL GIFT CARDS so you can give the gift of creating.
Be sure to CHECK OUT OUR CALENDAR of events with all upcoming workshops and private event availability!
BOOK A PRIVATE EVENT WITH US!
Something for everyone can be found at Hammer and Stain Eastern Shore! Attend a public workshop, Book a private party, or simply craft at home with one of our kits. We are always there to walk you through the process step-by-step. We'll share our tips and techniques to add texture and visual interest to your one-of-a-kind handmade projects. We offer all types of projects from wall signs, yard games, resin art, canvas art, paint pour, picture pallets, porch decor, hand knitted blankets, and so much more! We want you to create something you would proudly display or give as a gift. Everyone can enjoy the experience at Hammer & Stain Eastern Shore from an experienced maker to a first timer. All age groups are welcome. Custom pieces are our specialty as well! Just ask us. If you don't see a project you like, just send us a message at hammerandstaineasternshore@gmail.com let us help you bring your vision to life!
Calendar of Events
Here's what our clients are saying....
Charise R. - Two Mama's Cleaning Services

Ms. Karen has helped our large group twice! (Two Mama's Cleaning Service) Both times we had an amazing time! The girls love coming here for our work parties!! Book the fun!

Flourish Community

A big thank you to Hammer & Stain Eastern Shore for hosting us for an art class We learned how to use stain and stencils and pick out a phrase we liked and put it on a board to take home! Thank you to Karen for hosting and treating our girls to a fun class! If you are looking for a fun girls outing or date night check out Hammer & Stain!

Jackie K -

I've been to Hammer & Stain several times to create a variety of projects. Karen is always welcoming and encouraging. She's there to help if needed but let's you have your space to be creative as well. Choices of projects, materials and workshops are top notch. You will not be disappointed. I highly recommend Hammer and Stain Eastern Shore.
Need Assistance? Message us!